The world of work is constantly evolving, and technology is playing an increasingly important role in shaping its future and Microsoft's 365 Copilot is leading the charge. Their recent event on the future of work and the role of AI showcased this groundbreaking productivity tool, which promises to revolutionize the way we work. In this blog post, we'll explore how 365 Copilot could transform productivity for businesses and individuals alike, as we take a closer look at this game-changing innovation.
What is Microsoft 365 Copilot?
Copilot is integrated into Microsoft 365 in two ways:
It works alongside you embedded in the apps millions of people use every day, such as Word, Excel, PowerPoint, Outlook, and Teams.

It introduces an entirely new experience, business chat, that works across all of your data and apps, including your documents, emails, calendar, chats, meetings, and contacts.
Using just your own words, you can put Copilot to work gathering information in real-time from across your data and apps to unleash creativity, unlock productivity, and up-level skills. Copilot helps you become more creative in Word, more analytical in Excel, more expressive in PowerPoint, more productive in Outlook, and even more collaborative in Teams.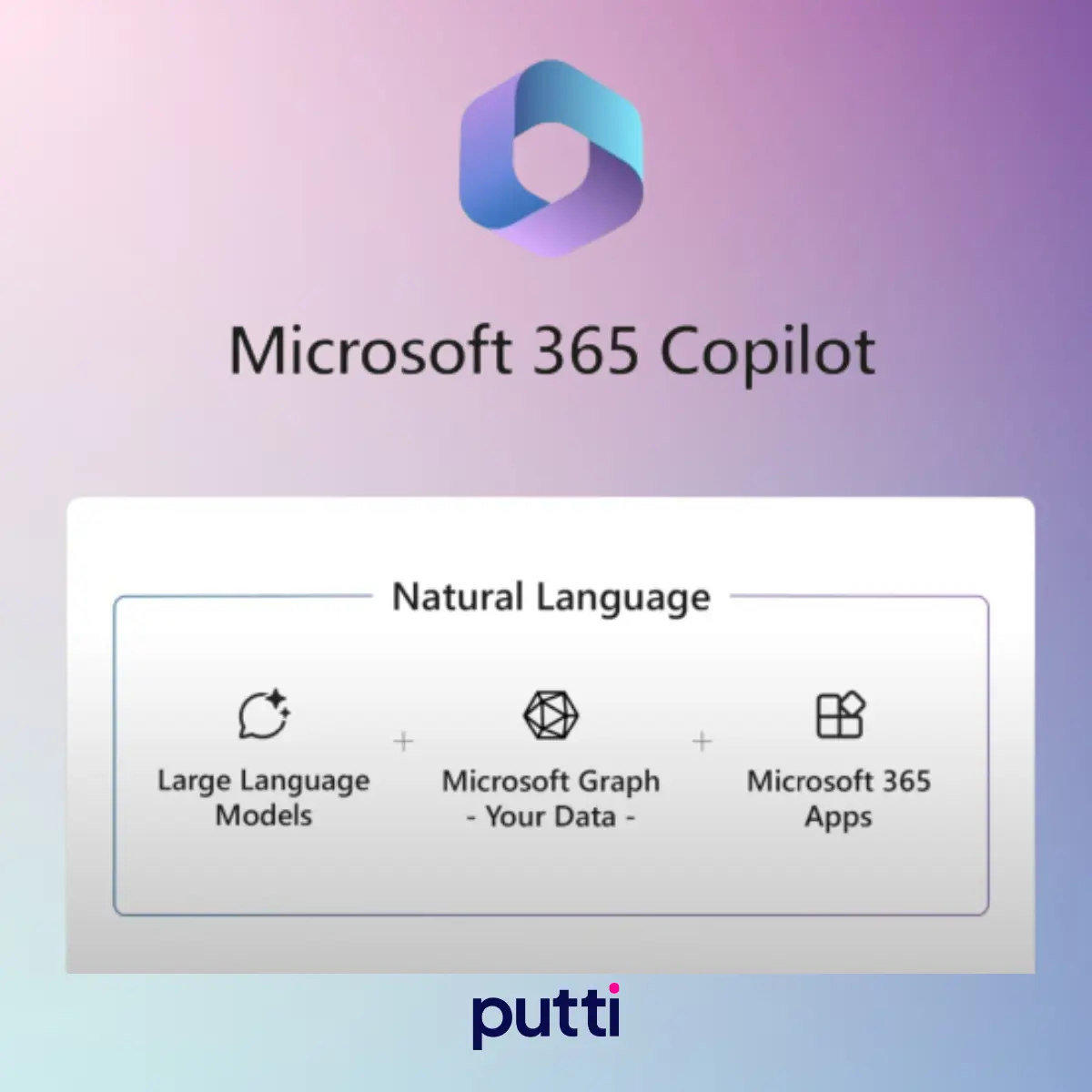 How Does Copilot Work?
To build Copilot, Microsoft didn't just connect chat GPT to Microsoft 365. Microsoft 365 Copilot is powered by what Microsoft calls the Copilot system, a sophisticated processing and orchestration engine. It harnesses the power of three foundational technologies: the Microsoft 365 apps (Word, Excel, PowerPoint, Outlook, Teams, and more), the Microsoft graph (all your content and context – emails, files, meetings, chats, and calendar), and a large language model (LLM) – a creative engine capable of parsing and producing human-readable text, all accessible through natural language.
Copilot starts with a prompt from you in an app. Copilot pre-processes the prompt through an approach called grounding, which improves the quality of the prompt, so you get answers that are relevant and actionable. One of the most important parts of grounding is making a call to the Microsoft graph to retrieve your business content and context. Copilot combines this user data from the graph with other inputs to improve the prompt. It then sends that modified prompt to the LLM. You may be familiar with what an LLM can do based on your experience with ChatGPT or Bing chat.
Copilot takes the response from the LLM and post-processes it. This post-processing includes additional grounding calls to the graph, responsible AI checks, security compliance, privacy reviews, and command generation. Finally, Copilot sends a response to the user and commands back to the apps.
Copilot iteratively processes and orchestrates these sophisticated services to produce a result that feels like magic. For example, if you have a dentist appointment that conflicts with your weekly business review, with Copilot, you can follow a meeting and catch up to see what you missed, even if you can't attend. You'll get a notification in Teams when the recap is ready, and you can see the content that was shared, detailed notes, and any action items.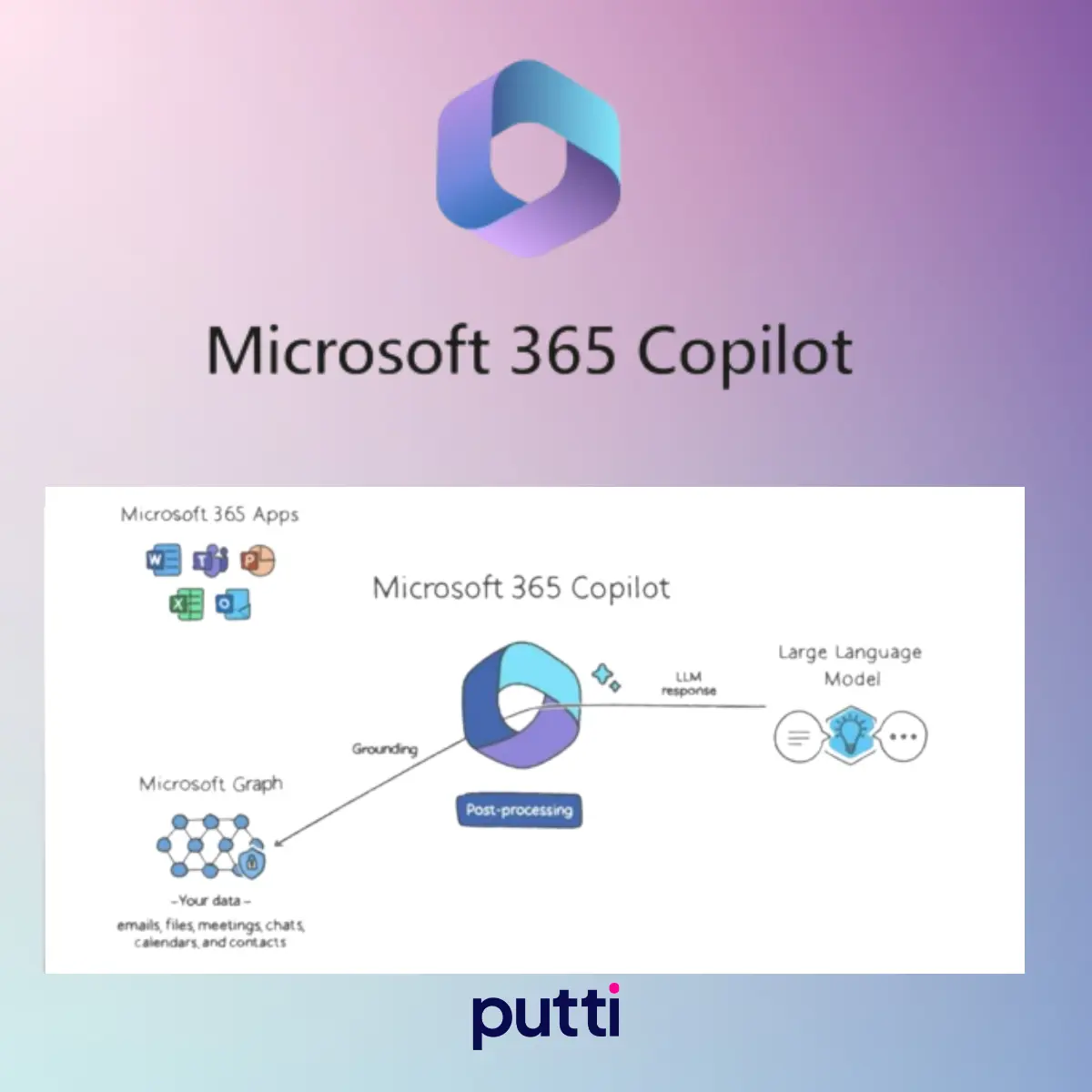 Real-Life Applications of Copilot
During the event, Microsoft showcased some of the real-life applications of Copilot. For example, Copilot can help you tackle your email. We all struggle with the pull of the inbox, sometimes it keeps us from focusing on our most important work. But at the same time, you do have important emails to respond to. Copilot separates the signal from the noise and gives you hours of time back. Copilot can help you triage your inbox, highlighting the most important emails to prioritize.
Copilot can also help you on the go.
Stay tuned for more updates on the game-changing productivity tool.
In today's fast-paced world, businesses are constantly searching for new ways to stay ahead of the curve and maximize productivity. With the introduction of Microsoft 365 Copilot, organizations are able to harness the power of artificial intelligence to streamline processes and drive innovation like never before.
Putti is proud to offer our expertise in this game-changing productivity tool, and we are excited to see the incredible impact it can have on our clients' success.
Stay tuned for more updates on the latest advancements in Microsoft 365 Copilot and the many ways Putti can help your organization unlock its full potential. Partner with us today and take the first step towards a more efficient, productive future.
Share how excited you are to see this amazing revolution of AI in the coming times! Let us know your thoughts on our social media channels –  we are on Facebook, Instagram, and LinkedIn!