Over the past few years, we have seen significant developments in the rise of Artificial Intelligence, with many AI-based platforms emerging and gaining widespread adoption. With its ability to automate processes, enhance decision-making, and transform entire industries, AI is unlocking new opportunities and shaping the future in ways we could have never imagined.
Given how quickly the digital world is evolving, Artificial intelligence holds the top spot among the top 10 technology trends for 2023, showcasing the immense potential and significance of this rapidly evolving field.
What are the Top 5 AI-Based Platforms?
In this blog, we'll explore the latest developments in AI for 2023 and the platforms that have seen significant growth in recent years. Here are some notable examples:
1. ChatGPT by OpenAI
Chatgpt has hit 100 Million Users In just two months since its launch. Chatgpt is an AI-powered conversational platform that has surpassed the 100 million users mark, making it one of the fastest-growing platforms in recent history.
This achievement is no small feat, and it has left many wondering how Chatgpt compares to other platforms in terms of growth. To provide some context, let's take a look at how long it took for other famous platforms to reach the 100 million user milestone.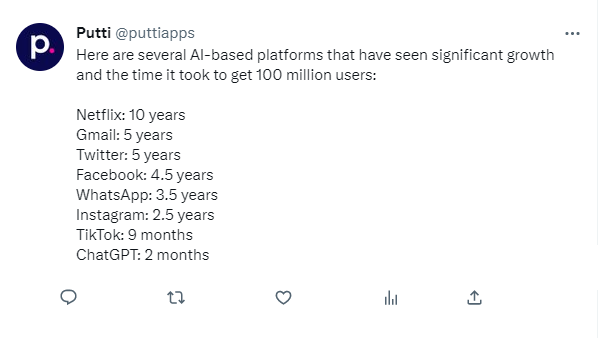 2. Google Assistant
Google Assistant is an AI-powered virtual assistant that is available on Android and iOS devices.
The platform was launched in May 2016, and has since become one of the most popular virtual assistants in the market. It was reported that Google Assistant had been installed on more than one billion devices worldwide.   Since then, the number of Google Assistant users has likely increased further, given the growing popularity of smart speakers and other connected devices that use the Assistant.
3.  Alexa by Amazon 
Alexa is a virtual assistant developed by Amazon that is capable of voice interaction, music playback, making to-do lists, and providing real-time information. 
The platform was launched in November 2014, and has since become a popular tool for home automation and voice control. Amazon has not released information about how long it took Alexa to reach one million users, but according to a report there were more than 200 million devices worldwide with Alexa built-in.
4. IBM Watson 
 IBM Watson is a cognitive computing platform that uses natural language processing and machine learning to provide insights and recommendations based on large volumes of data. 
The platform was launched in January 2014 and has since been used in a variety of industries, including healthcare and finance.  IBM has not released any information on how many clients or users it has or how long it took to reach certain milestones, such as one million clients or users.
5. Microsoft Azure AI
Microsoft Azure AI is a collection of pre-built AI services that businesses can use to develop intelligent applications. It includes services for speech recognition, computer vision, and natural language processing, among others. 
It has seen significant growth in recent years, with Microsoft reporting strong demand for its AI-based services.
While these platforms has not released any information on the number of users or how long it took to reach one million users. It is important to note that they are all important players in the rapidly-growing AI industry and are expected to continue to see growth in the coming years.
Future Growth of AI-based Platforms
The growth also reflects the rapid pace of the adoption of AI technology in recent years. As AI technology becomes more sophisticated and accessible, we can expect to see more platforms that incorporate AI capabilities in their user experience. These platforms will provide a new level of interactivity and personalization, which will be key in engaging and retaining users.
As we move forward, we can expect to see more platforms incorporating AI capabilities in their user experience, and this will transform the way we interact with technology.
Unlock New Possibilities
Discover what Putti can do for your organization. Take advantage by partnering with us. Check out our services at Putti Website to find out how we could be a game-changer in terms of unlocking new possibilities, streamlining processes, and improving outcomes. 
Would love your thoughts on these Top Tech trends! Share your thoughts on our social media channels –  we are on Facebook, Instagram, and LinkedIn!